Matt Rainsbury
The IELTS Teacher – The Web's #1 IELTS Skype Tuition Site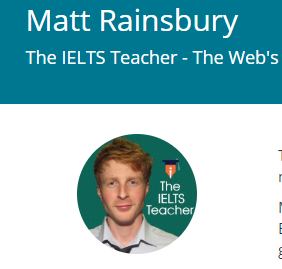 The IELTS Teacher is an online tutoring service run and taught by Matt Rainsbury, a British native with many years of English Language and IELTS teaching experience.
Matt has a Bachelor's Degree in English and has been teaching English as a foreign language since 2008. Before teaching online, Matt had helped hundreds of students around the world to achieve their IELTS goals.
In 2013, with the aim of offering IELTS preparation to those who could not reach a native-speaker teacher, Matt created The IELTS Teacher. The IELTS Teacher is a website whereby students can book Skype-based IELTS lessons with an experienced and qualified native-speaker teacher. Matt has since worked with hundreds of students 1-on-1 who had been struggling to achieve the score they needed, and has helped them to realise their goals.
Writing is Matt's favourite component to teach. During his lessons, Matt uses a screen-sharing programme which allows students to control his keyboard, and thus guides his students through the essay-writing process and teaches them how to write a high-quality essay.
Matt's IELTS Udemy courses have been created by bringing together all of his knowledge and experience of both the IELTS exam itself and teaching IELTS to students. These are comprehensive courses which take the tips, techniques and skills which have been most effective at helping Matt's students to achieve their IELTS target scores.
————————————————————
———————————————
————————-
——–
—