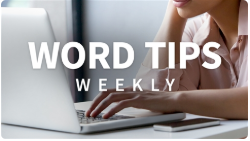 Updated
6/4/2018
Released
4/3/2017
Become a Microsoft Word power user in just a few minutes a week.
This tips-based series helps you deepen your proficiency with Word, covering a variety of tools and techniques you can use.
Learn how to work with templates, format documents, customize built-in styles and themes,
master Track Changes, and more. Check back each week for a new pro tip from expert David Rivers.
—————–
—————–